Solvent Based Cleaning Agent for Non-Porous Substrates
Sika® Cleaner P is used to remove foreign matter and contaminants such as grease, oil, dust and dirt from non porous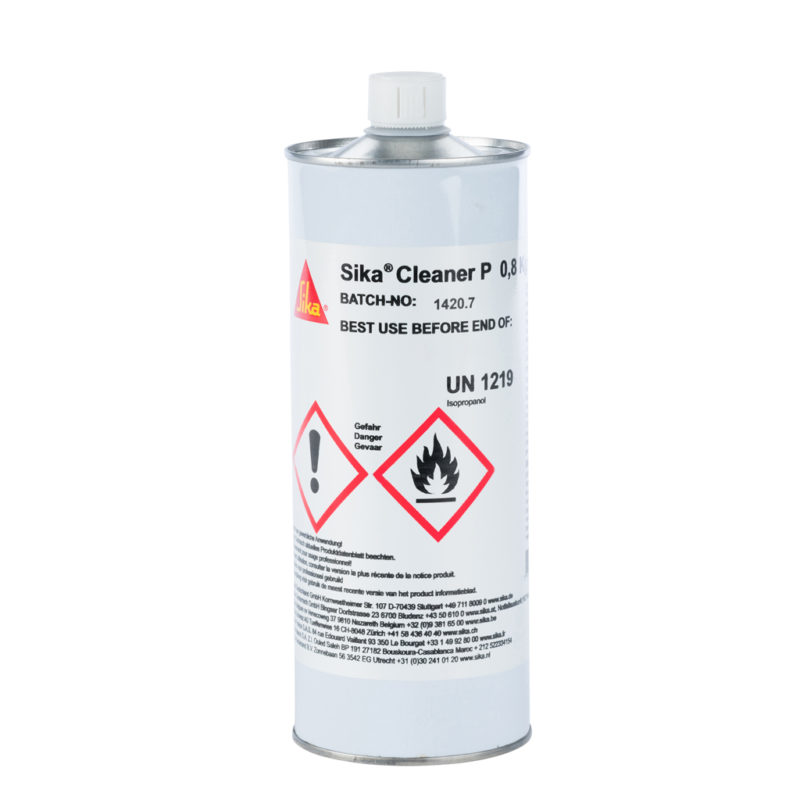 substrates such as glass, plastics, metals, polyester powder-coated metals and PVDF-coated metals prior to the application of sealants and adhesives. It has superior degreasing properties & is quick & easy to use.
This product is suitable for experienced professional users only. Tests with actual substrates and conditions have to be performed to ensure adhesion and material compatibility.
Sika Cleaner P Application
Wet the lint free paper towel by pouring Sika Cleaner P onto it (Never dip the towel into the cleaner as it may contaminate it). 
Wipe the surface with the wetted paper towel. (Use fresh paper towels regularly in order to retain the cleansing power of Cleaner P)
Before the solvent dries on the surface (evaporates), wipe it off with a clean, dry paper towel.
Repeat the last two steps until no contaminants show up on a white paper towel.
If cleaned parts are not bonded subsequently, cover them in order to prevent new contamination.
If the time between cleaning and further processing is more than two hours, repeat the treatment as described above.
Ideal application and surface temperature is between 15 °C and 25 °C.
Use only clean, white, lint-free paper towels.
Tightly reseal container immediately after each use.
Keep away from heat, hot surfaces, sparks, open flames and other ignition sources
No smoking.
Keep container tightly closed.
Safety Gloves MUST be worn when using Sika Cleaner P
Avoid breathing dust/ fume/ gas/ mist/ vapours/ spray.
Wear protective gloves/ protective clothing/ eye protection/ face protection.
Available on 0.8Kg Tins supplied 12 per Box
Individual tins can be purchased online from our UK dsitrbutor;