Self Adhesive & Non-Adhesive Neoprene Foam Tape / Sponge Strip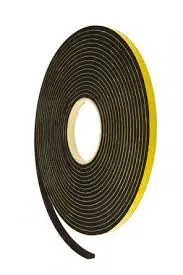 Neoprene foam tape is a synthetic rubber. It is a useful and versatile sponge foam tape which is widely used in construction, electrical insulations and engineering applications.
This foam tape has a resistance to many chemicals/oils and is often used as a protective material within automotive applications.
Our LYNKN002 grade specifically offers excellent thermal resistance and conforms to UL94 standards making it one of our top rated, flame retardant materials.
Neoprene Foam Tape in Rolls , Sheets & Bespoke Gaskets.
Colour: Black Density: 130kg +/- 20 Shore hardness: 00
Custom Sized Rolls, Sheets & Gaskets
As with most of the materials and tapes available from Lynvale, we can produce custom sized rolls, sheets and gaskets using our in-house modern converting machinery.
Custom sized solutions are subject to minimum order quantities or a small order surcharge (this covers the cost of machine set up time & material wastage).
Our capabilities & expertise allow Lynvale to manufacture bespoke solutions from proto-types to full scale production all under one roof.
If you're in search of something a little different please get in touch.
ISO 9001 : 2015 Approved Manufacturer, Converter and Distributor of Adhesive Tapes, Films, Foams & Membranes