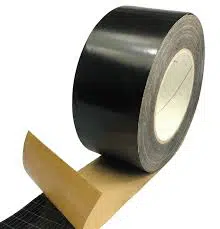 Our Premium Airtight Tape features a very high performance adhesive system which provides a superior bond with excellent tack values.
It adheres well, even to non-polar and low energy surfaces and bonds especially well to PE Foil and HDPE/PP/PE Fleeces.
The elastic film carrier is reinforced with PE-Scrim, this promotes excellent bonding to a wide range of surfaces.
The material is highly heat and wrinkle resistant and guarantees an airtight seal.
This tape has a unique acrylic dispersion which properties increase the life expectancy of the airtight tape seal.
Request Your Quotation Today
High Performance Adhesive – Bonds where Others Fail
Provides Instant Airtight Seal for Board & Membrane Joints
Bonds to Cement Particle Boards, Calcium Silicate Boards, Sheeting Boards, Plywood, Chipboard and, Flexible Vapour Barrier Materials,
Meets the Strict requirements of En EV (DIN4108-7
Standard Roll Lengths : 25 Metres
Standard Roll Widths: 50mm, 60mm, 75mm, 100mm, 150mm
Bespoke Sizes Made To Order
Custom Sized Rolls, Sheets & Gaskets
As with most of the materials and tapes available from Lynvale, we can produce custom sized rolls, sheets and gaskets using our in-house modern converting machinery.
Custom sized solutions are subject to minimum order quantities or a small order surcharge (this covers the cost of machine set up time & material wastage).
Our capabilities & expertise allow Lynvale to manufacture bespoke solutions from proto-types to full scale production all under one roof.
If you're in search of something a little different please get in touch.
ISO 9001 : 2015 Approved Converter of Adhesive Tapes, Films, Foams & Membranes