ACHR 2303 UHMW Tape (Ultra High Molecular Weight)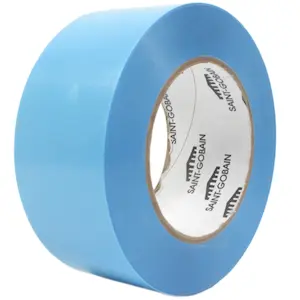 CHR 2302 is an UHMW Tape (Ultra High Molecular Weight) used to controls vibration squeaks and rattles.
CHR 2302 can be used to provide an abrasion-resistant, anti-stick, anti-friction surface at temperatures up to 107°C (225°F).
It exhibits excellent abrasion resistance and has a low coefficient of friction. It is often used in the protection of surfaces or bearings that experience heavy wear.
CHR 2302 has a high-temperature, high tack acrylic adhesive which readily adheres to most clean and dry surfaces.
CHR 2303 UHMW Tape Applications
It is frequently used to line chutes and conveyors and is often applied to guide rails to reduce noise levels in glass bottling plants.
CHR 2302 UHMW Tape is also used to replace desk drawer bearings, and provides silky smooth, friction free surface for a multitude of other applications.
CHR 2302 - 05 UHMW Tape Formats
CHR 2302 is available from Lynvale in finished rolls (from 6mm up to 850mm wide), Sheets & Bespoke Gaskets
Backing Material : Film-UHMW
Adhesive Type : Acrylic
Total Thickness mm (mil) : 0.165 (6.5)
Backing Thickness mm (mil) : 0.127 (5.0)
Adhesive Thickness mm (mil) : 0.038 (1.5)
Adhesion to Steel N/cm (oz/in) : 4.9 (45)
Tensile Strength N/cm (lb/in) : 70 (40)
Elongation (% at break) : 350
Operating Temperature °C (°F) : -40 to +107 (-40 to +225)
Custom Sized Rolls, Sheets & Gaskets
As with most of the materials and tapes available from Lynvale, we can produce custom sized rolls, sheets and gaskets using our in-house modern converting machinery.
Custom sized solutions are subject to minimum order quantities or a small order surcharge (this covers the cost of machine set up time & material wastage).
Our capabilities & expertise allow Lynvale to manufacture bespoke solutions from proto-types to full scale production all under one roof.
If you're in search of something a little different please get in touch.
ISO 9001 : 2015 Approved Manufacturer, Converter and Distributor of Adhesive Tapes, Films, Foams & Membranes