Structural Glazing Spacer Tape
Thermalbond V2100 structural glazing spacer tape, also known as Norton Tape is the most commonly used structural glazing spacer tape in two and four sided structural glazing. It performs a load bearing function while the structural silicone sealant cures.
Norton V2100 is offered in 6 thicknesses, these are;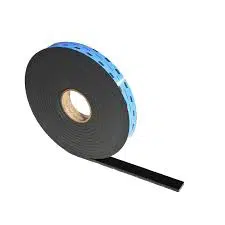 3.2mm
4.8mm
6.4mm
8mm
9.5mm
12mm
Lynvale provide Norton Tape (Thermalbond V2100) in standard and custom sized widths. Standard widths are held in stock for immediate despatch to site. Custom sizes can take 1-3 days.
In addition to holding the glass or cladding at a predetermined distance from the substrate for proper silicone joint design, Thermabond V2100 also offers a number of benefits, including compatibility with all tested silicone sealants, a special adhesive surface, and thermal resistance.
Norton Tape Thermalbond V2100 Features
Allows air and moisture to reach silicone, permitting optimum curing.
High Strength Polyurethane Foam
Will not compress, therefore maintains predetermined space for structural silicone application.
Compatible with ALL tested silicones.
Reduces heat transfer and inhibits condensation on windows, doors and metal systems.
Resistant to weather, fungi and oxidation.
Aids in stabilising components whilst silicone cures.
UK Distributors with Online Ordering