Eliminate Sub Floor Squeaks & Reduce Sound Transmission with CST Green Glue Joist Tape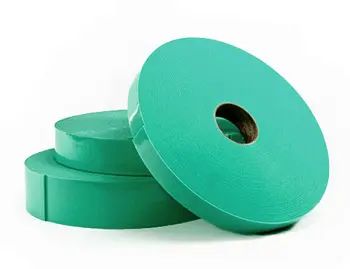 Norton CST (Comfort and Silence Tape) is a uniform gasket joist tape that provides a unique noise control and thermal break solution to both residential and commercial construction.
It is a specially formulated closed cell foam adhesive tape with pressure sensitive adhesive on one side and a protective durable surface on the other side.
Noise Control NORTON CST™ Joist Tape virtually eliminates squeaks. It leaves a quieter and more comfortable floor due to it's ability to dampen vibrations: 
Impact sound transmission (IIC rating - Impact Insulation Classification) through floors is reduced up to 10 times! (ASTM E-989). 
Airborne sound transmission (STC rating - Sound Transmission Class) through walls is reduced up to 20 times! (ASTM E-90). 
NORTON CST™ V494 Joist Tape Features
Consistent thickness and width throughout
Sound transmission noticeably reduced, squeaks/call-backs eliminated.
Squeaks caused by gaps are eliminated.
Matches industry standards for joists and studs, no waste of material
Quick and clean application, no special skills required
Smooth Top Surface
Subfloor slides easily into position
Good for life of building
Can be applied on-site or pre-applied off-site
Flame Spread Classification 15 (Class I) ASTM E-84/UL723
Smoke Developed Classification 10 (Class I) ASTM E-84/UL723
Oxidation Resistance Passed (300 psi at 158°F during 96 h) *APA 5.7.2.2
Air Permeability @ 30% compression 0 (impermeable) *NTP-122
Thermal Conductivity (BTU (.in)/Sq. Ft. (hr.) F) .28 ASTM C-518
Recommended Service Temperature -20°F to 160°F (-29°C to 71°C)
Recommended Application Temperature 40°F to 125°F (4°C to 52°C)
Max Impact Noise Reduction -10 dB @ 1250 Hz ASTM E-989
Max Airborne Sound Reduction (through floors) -19 dB @125 Hz ASTM E-90
Max Airborne Sound Reduction (through walls) -19 dB @ 500 Hz ASTM E-90