Green Glue Noiseproofing Compound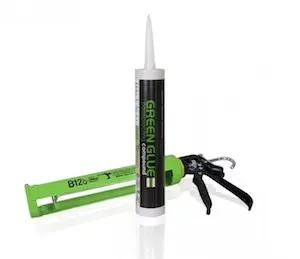 Green Glue is a noiseproofing, viscoelastic compound which transforms energy from sound waves into heat energy that you can't hear. 
When sandwiched between two rigid sheets (like Dry Wall) just one layer of compound can eliminate up to 90% of unwanted noise.
It is ready mixed and available in American quart sized tubes which require a specialist sealant applicator.
Recommended usage is 2 tubes per board (8ft x 4ft). For larger volumes we recommend using the 5 Gallon Pails, these pails provide enough compound for 11 8ft x 4ft sheets.
Commercial & Domestic New Builds & Renovations
Green Glue is the most popular and cost-effective soundproofing material on the market. Application is fast, simple, and effective. The compound's unique properties dissipate structural vibrations caused by sound waves that travel through ceiling, walls, and floors.
The soundproofing compound is a non-hazardous and environmentally-responsible, cost-effective soundproofing solution. 
Noisy Neighbours?...... No Problem!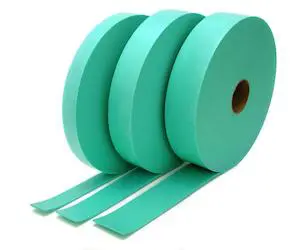 CST Joist Tape is a noiseproofing joist tape which resolves one of the biggest noise complaints – the unwanted sound of footsteps and squeaky floors. The squeaking occurs naturally when floors settle, and joists rub together with subflooring – but this is avoidable. Green Glue Tape is a noiseproofing joist tape that creates a seal that prevents void spaces which occur as joists and subfloors dry and shrink. Applying CST Joist Tape takes very little time yet the benefits will last for many years to come. The foam tape roll tape is simply applied onto floor joists, adhesive side down, followed by the installation of the subflooring on top. The Tape comes in three standard width sizes based on the most common joist sizes in new construction projects. Custom sizes can be made to order.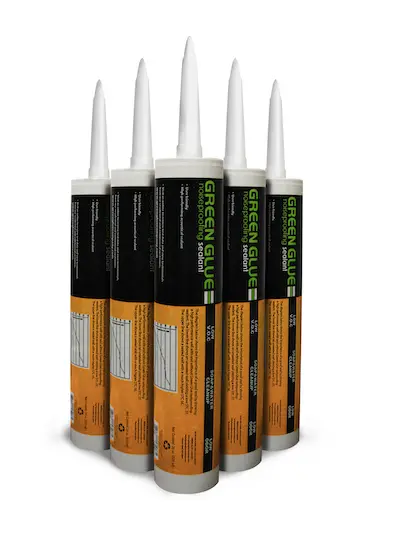 For joints and perimeters, this sealant provides gap filling for up to 10mm where the wall meets the floor or ceiling, and where two walls meet. It can also be used around outlet and switch boxes. 
Sound will always find its way out of a space, this can be prevented with Green Glue Sealant.
Sealing around your noiseproofing perimeters & joints can make all the difference between success or failure in your soundproofing project.